Dennis writes books with a writing technique aimed to give you deep insights. His books act as a guide to peace of mind, harmony and personal development.
Dennis Westerberg does not want his books to be associated with the so called "self-help litterature" that exists in the market today.
His books does not contain any methods or techniques. Not even tips and tricks. Dennis books presents and explains the principles that lies behind our well being. That's it. Nothing less, nothing more.
And that's more than enough. Well-being, calmness and harmoni exists by nature. We're born with it. It came with life itself.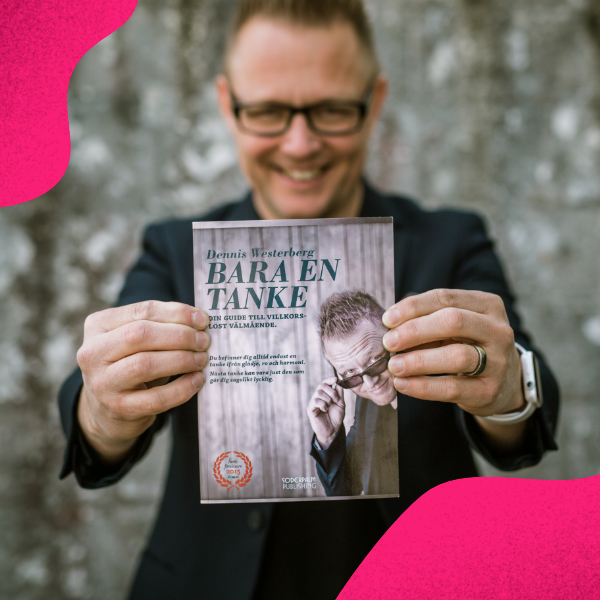 "A must-read for managers, leaders, executives, parents, couples and above all: humans. Everyone can benefit from it if you just read and understand how simple it really is to live, no matter how hard it can feel."
Christer Paulsson, former CEO, Sverigeflyg
What you can expect from reading Dennis books.
Many aha-moments.
Dennis Westerberg points you in the direction of what you already know, but have forgotten growing up.
An easy to read book.
Dennis Westerberg gets straight to the point, written in a way that's easy to read and follow.
A beautiful language.
Dennis Westerberg knows the art of writing beautiful expressions.
Calmness appearing.
Dennis Westerbergs words acts like a guide to well-being.
A change in your world view.
Dennis Westerberg makes the illusion real and shows you how what you thought is real, is actually just an illusion.
Many oh shit-moments.
Dennis Westerberg exposes the truth in a ruthlessly honest way.
"I've read 'Bara en tanke' a couple of times. I almost miss the anxiety and pondering, which is odd, but nice. You have saved me and my children."
Roger Magnusson
How many books have Dennis written?
Dennis has published six books in his own name:
1. Jag dog och fick liv igen (2019)
2. Så korn av sanning – om sinnesro (2019)
3. Små korn av sanning – om medvetandet (2019)
4. Små korn av sanning – om tankar (2019)
5. Bara en tanke – Din guide till villkorslöst välmående" (2016)
6. Hmm eller Mmm? Nedkokat och uppklokat" (2014)
"Bara en tanke" and "Jag dog och fick liv igen" are also available as audiobooks.
Dennis has also produced four audiobooks together with Tomas Lydahl. The audiobooks are recorded in Swedish and can be listened to on Storytel.
What's the latest book Dennis has published?
In May 2019 Dennis published "Jag dog och fick liv igen" on Ehrlin Publishing.